Pinski Exhibitions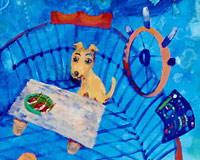 Ibiza, Spain:
Can Esparta, Cala Vadella
July 1-12, 2013
Sydney:
Leichhardt Art Tour
March 2013
Sydney:
The Chilli Rooms
November 1-30, 2012
Perth:
Gadfly Gallery
November 2011

Have a look
at the new Pinski 8-page brochure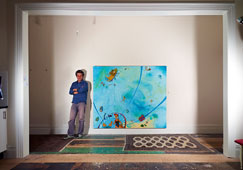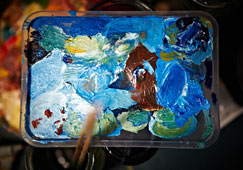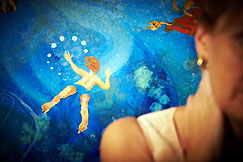 Pinski's Travelling Dive Troupe
"Pinski is a loveable pooch with a penchant for high adventure. In a Hot Air Balloon he journeys to coastal hideaways where they perform dives from the basket into the ocean. The series is a big success with 69 works now taken up by collectors in Sydney, Melbourne, Perth and London."

Fiona Inverarity
April 2013
Partner at Truman Hoyle Lawyers and Chilli Rooms Patron
"Wayne Ashton may well have created a new classic with this canine character."

Anna Kwiecinska
Director, Gadfly Gallery Perth

Click here to view the Pinski painting series
Carpe Diem!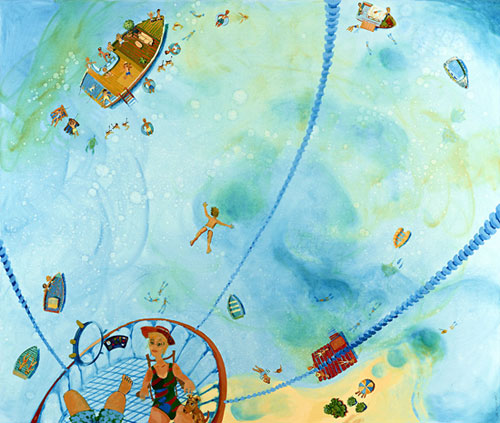 Pinski's Travelling Dive Troupe at Harper's Landing - oil on canvas 1.63 metres x 1.97 metres

"Serious artwork brimming with cheer! The most powerful kind of art that I know, lifts the spirits and gives a fantastic boost."
Mark Hubbard, Melbourne, Finance Director UXC Limited

"My Pinski purchases work brilliantly, makes my office brighter and better. Dazzling paintings for grown-ups that explore the best bits of childhood."
Fiona Inverarity, Sydney, Truman Hoyle Lawyers

"With Pinski's Dive Troupe Wayne Ashton has warmed our home, our hearts and our childrens' interest in art."
Matt Saggers, Melbourne

© Wayne Ashton May 2011